Wide Range of Excursions tours From Ella, Haputale, & Bandarawela,
wildlife safaris, city tours, cultural discoveries, and thrilling adventures,
Diyaluma & Upper diyaluma Waterfalls, Pilkington point, millennium point, Tea Plantation in the poonagala valley
 The Poonagala Hills are a range of low-lying hills in the Central Highlands of Sri Lanka. Whilst quite beautiful by themselves, with rolling green fields of tea, pretty flowers and colorful tea pluckers; the area gains its fame due to four very specific viewpoints known for the amazing views of the island. These viewpoints Pilkington Point, Millennium Point, Lipton's Seat, and St. Catherine's Seat
Pilkington Point gained its name in 1898 from Sir George Pilkington, the first manager Poonagalla Group, who used this location to scan the vast tea estate of Poonagala in late 1800's. The viewpoint lies 1400m above sea level in the Bandarawela region.
The vista give an unprecedented view all the way to the Southern Coast. The districts of Monaragala, Hambanthota, Rathnapura and a part of Ampara are visible. Some of the more identifiable landmarks include Wellawaya, the Kiri Vehera Temple of Kataragama, Embilipitiya and Udawalawe.
Millenium Point lies not far above Pilkington point and can only be reached by foot.
The climb unto Millennium Point takes about an hour and the views are even better than Pilkington Point. The viewpoint offers a 350-degree view of the surrounding landscape; including all the locations that can be seen from Pilkington Point and more.
Diyaluma At 220m tall, Diyaluma Falls in Sri Lanka, is the second-tallest waterfall in the country and a stunning spectacle of nature.  The winding Punagala Oya stream strings together a series of gorgeous natural pools, before pouring over a sheer cliff face and dropping into the abyss.
The waterfall, locally known as Uda Diyaluma, making it the perfect day trip if you're staying in around Ella, Haputale Or Bandarawela
Swimming in the rock pools at the top of Diyaluma Falls in Sri Lanka. The enormous rocky facade is peppered with lush, green vegetation, thriving in the mist of the falls. Up top, the ceaseless flow of water has carved intricate channels and pools into the rock, weaving through the verdant mountain terrain. These pools are amongst the best in the world for a scenic swim, with views that will take your breath away. 
Enjoying the view from the top of Diyaluma Falls in Sri Lanka, If you're an adventure seeker, you can brave the jump from the rocks into one of the pools. It's about a 7-meter drop and a great little adrenaline rush.There's even a smooth, sloping section of rock that you can slide down into a pool. The area is pretty much a natural waterpark!
Ravana Falls on the way back we stop to see the Ravana Falls is a three-tier cascading waterfall running through a lush valley just 6km outside of Ella.
Ravana Falls are a popular attraction amongst visitors. And while it may not be as striking as Diyaluma, it's certainly one of the most beautiful waterfalls in Sri Lanka. It's also one of the widest waterfalls in the country. At the bottom of the falls, just a moment's walk from the road, there are some lovely natural pools where you can swim and enjoy the gorgeous scenery. You won't need long here, but it's a really worthwhile stop and visit
Duration: 4 Hours

What's Included

Lunch
All Fees and Taxes
Professional guide
Bottled water
Picnic Lunch
 Transport By Car Or Tuk Tuk


Departure from Ella, Bandarawela Or Haputale

9:00 AM

Trekking Level: – Moderate Trekking trail has ups and downs, but not so steep

Lowest Rate Guarantee

200, US$

For 2 Person

 

Safari in a Yala or Udawalawa National Park from Ella, Haputale & Bandarawela



One of the big questions for wildlife lovers travelling Sri Lanka is whether to go on safari in Yala National Park or Udawalawe National Park or both. Most people priorities a visit to Yala National Park as it's one of the best places in the world to see leopards in the wild,
Udawalawe
Udawalawe National Park is known for its herds of wild elephants, Udawalawe National Park is home to around 500 elephants, and sightings of these gentle giants are almost guaranteed inside the park. Often seen in large herds of up to 100 at a time, they're pretty easy to find! Although the elephants are the main attraction at Udawalawe, there are plenty more incredible animals inside the park including crocodiles, monkeys, buffalo and a good variety of birds. Leopards and sloth bears do live in the park
Yala
Yala National Park is one of the best places in the world to see leopards in the wild. the park is home to the highest density of leopards in the world which gives you a good chance! If seeing a leopard is your priority then Yala is definitely the best safari in Sri Lanka.
On top of that, the park is also home to the elusive sloth bear. Although both sloth bears and leopards are present in Udawalawe, they're very rarely seen there. In contrast, with a bit of luck it's possible to have sightings of a sloth bear and a leopard on one safari in Yala!
There are many other incredible species found in the national park, including elephants, deer, crocodiles, buffalo, monkeys and more. The park is also home to an abundance of birdlife including hornbills, kingfishers, eagles and hoopoes to name just a few!
Duration: 4 Hours

What's Included

Transport By Car
All Fees and Taxes
Professional guide
Bottled water
 Lunch
Jeep Safari

Departure from Ella, Bandarawela Or Haputale

5:00 AM

 

Lowest Rate Guarantee

200, US$

For 2 Person

 
 
Hortons plane, words end, OR Kirigalpoththa Trekking from Ella, Haputale & Bandarawela
Guided tour to Horton Plains National Park which is one of the UNESCO World Heritage Sites in Sri Lanka. Horton Plains National Park  is a National Park in the central highlands of Sri Lanka that was designated in 1988. It is located at an elevation of 2,100–2,300 m (6,900–7,500 ft) and encompasses montane grassland and cloud forest . It is rich in biodiversity and many species found here are endemic  to the region
The Horton Plains are the headwaters of three major Sri Lankan rivers, The plains' vegetation is grasslands interspersed with montane forest and includes many endemic woody plants . Large herds of sri lankan sambar deer feature as typical mammals and the park is also an important bird Aria with many species not only endemic to Sri Lanka but restricted to the Horton Plains.
Horton Plains is located on the southern plateau of the central highlands of Sri Lanka. The peaks of Kirigalpoththa   (2,389 meters (7,838 ft)) and Thotupola Kanda (2,357 metres (7,733 ft)), the second and the third highest of Sri Lanka, are situated to the west and north respectively. The park's elevation ranges from 1,200–2,300 metres (3,900–7,500 ft).
Kirigalpoththa
Kirigalpoththa is the 2nd highest Mountain of Sri Lanka after Pidurutalagala. With a peak elevation of 2,388 meters above sea level. Kirigalpoththa is the highest point in the Horton Plains National Park and also the highest peak accessible to the public. This 7 KM trail (one way) will take around 5 1/2 hours of trekking, hiking & mountaineering challenges. Attempting Kirigalpoththa is for the daring adventurers only as the conditions can be treacherous due to the difficulty of the terrain and weather. A single & a slightly over grown path snake through grassy plains, cloud forest, bog & finally steep rock surfaces. Sri Lankan Leopard & Sambur are the bigger wild animals you may sometimes come across; if you are lucky, you may even encounter a few endemic bird species as well.
We start the tour From Ella, Haputale, and Bandarawela, and we will pick you up from your hotel and we will fix time once you book the tour, we can combine a short train ride with this tour and you can do the trekking to Hortons plane or Kirigalpoththa.
Duration: 4 Hours

What's Included

Lunch

All Fees and Taxes

Professional guide

Bottled water

Picnic Lunch

Local Transport

Departure from Ella, Bandarawela Or Haputale

9:00 AM

This is an outdoor Trekking Activity in tropical Country

Travelers should have a moderate physical fitness level

Lowest Rate Guarantee

200, US$

for 2 Person

Trekking Level: – Moderate Trekking trail has ups and downs, but not so steep

 Buduruwagala Buddha statue
From Ella, Haputale & Bandarawela
Buduruwagala is an ancient Buddhist temple in Sri Lanka Buduruvagala is located about 6.4 km southeast of Wellawaya in Monaragala district, Sri Lanka.
 The complex consists of seven statues and belongs to the Mahayana school of thought. The statues date back to the 10th century. The gigantic Buddha statue still bears traces of its original stuccoed robe and a long streak of orange suggests it was once brightly painted. The central of the three figures to the Buddha's right is thought to be the Buddhist mythological figure-the Bodhisattva Avalokitesvara. To the left of this white painted figure is a female figure in the thrice-bent posture, which is thought to be his consort-Tara.
The figures are thought to date from around the 10th century and belong to the Mahayana Buddhist school, which enjoyed a brief heyday in Sri Lanka during this time
Buduruvagala means "the rock of Buddha Sculptures". The name Buduruwagala is derived from the words for Buddha (Budu), images (ruva) and stone (gala). Most visitors, especially Buddhists, who attend the temple will make sure to visit Buduruvagala.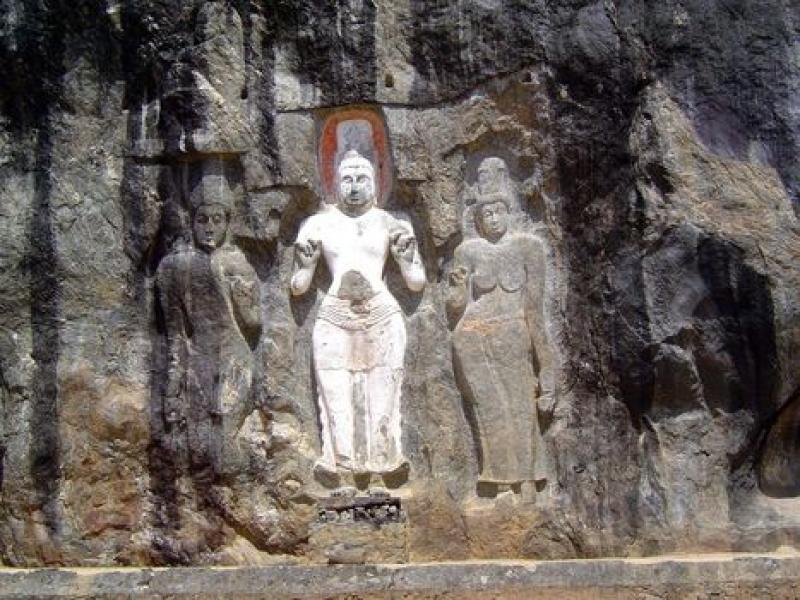 Duration: 4 Hours

What's Included

Lunch

All Fees and Taxes

Professional guide

Bottled water

Transport By Car


Departure From Ella, Bandarawela Or Haputale

9:00 AM

This is an outdoor Trekking Activity in tropical Country

 

Lowest Rate Guarantee

200, US$

 

Lipton's Seat, Lipton's Original Tea Plantation & Factory, and Adisham, Bungalow
From Ella, Haputale & Bandarawela
No trip to Sri Lanka would be complete without spending a little time visiting a Sri Lankan tea plantation in the Hill Country.
Head into highlands of Sri Lanka and you will find misty green hills swelling up around you, each covered with row upon row of deep green tea bushes that stretch out as far as the eye can see. Looking closely, you will see that these mountainsides are speckled with color and alive with activity: women carefully work their way along the pristine rows of shrubs, barefoot with a basket strung across their backs, as they pluck, pick, bag and weigh the tea leaves.
On a tea plantation visit you can learn all about tea picking and tea processing and also enjoy some fine Sri Lankan tea tasting.  It's probably a much more exciting prospect if you're a tea lover, but even if you're not, the Hill Country or Tea Country, as it's sometimes called is arguably the most scenic part of the island and worth a visit.
The tea plantations of Sri Lanka offer such a beautiful contrast to the rest of Sri Lanka, and Hill Country is well worth
Sri Lanka's tea country is located mainly in the central highlands, although some of the tea growing areas spread as far as the coast. The reason that tea grows well here is because of the topography and the climate. The fertile soil, humidity and higher rainfall provide excellent tea growing conditions and tea plants thrive. It's also quite a bit cooler in the highlands than the coastal areas due to its elevation.
The tea produced varies depending on where it's grown. The higher the elevation, the lighter and subtler the tea. Higher elevation tea plantations are found around Haputale and Nuwara Eliya.
The industry was introduced to the country in 1867 by James Taylor, a British planter who arrived in 1852. His estate is open to visitors.    
A visit to Sri Lanka is not complete without visiting a tea Plantation. 
Lipton's Original Tea Factory The name Lipton is now synonymous with tea worldwide, but the Lipton empire had humble beginnings in Ceylon. In 1890, James Lipton stopped at the island en-route to Australia where he purchased a number of small, failing tea plantations in order to cut out the middleman in the burgeoning tea business that eventually grew into a global empire. Of all his plantations, he held Dambatenne in the highest regard.
The factory can still be found between Haputale and Bandarawela, equidistant from both. While many of the tea factories around Sri Lanka have modernised, the slightly disheveled Dambatenne site still produces tea much the same as it did when it was first built in 1890, with the old machinery and process remaining unchanged for 130 years. Tours are available, however, there is no tea for sale on-site. If you want to see the whole factory in operation, it is best to arrive before noon.
The Adisham Bungalow was once the country house of Sir Thomas Lester Villiers, but today it houses the Adisham Monastery of the St. Benedict. the Adisham Bungalow is one of the most picturesque corners in the region.
Constructed in 1931, the house was designed in the Tudor style and fashioned after the Leeds Castle in Kent- Sir Thomas Villiers even named it after the village he was born in and has all the trappings of what you would imagine an English mansion would have. The Bungalow has an impressive library which is filled from floor to ceiling with old dusty volumes that the planter held dear.
Sir Thomas Villiers spared no expense when it came to his home, but what's even more splendid than the actual house is its surroundings. Adisham Bungalow is perched on the edge of a cliff which is flanked by a larger outcrop fringed with tall pine trees, which somehow dwarf the house. The country home also has a wonderful view of the Uva valley, as well as a beautiful garden and orchard that you can stroll through.
Duration: 6 Hours

What's Included

Lunch
All Fees and Taxes
Professional guide
Bottled water

Transport By Car Or tuk Tuk




Departure from Ella, Bandarawela Or Haputale

9:00 AM

Lowest Rate Guarantee

90, US$

For 2 Person

 
All Inclusive-Overnight tour to
Mahiyanganaya Rathna Ella Waterfall Hike and Wedda Village Experience

From Ella, Haputale & Bandarawela
Mahiyanganaya may not be as popular as other cities in Sri Lanka, but don't let that fool you. Mahiyanganaya is a smaller but beautiful upcoming tourist destination that is worth a visit. You will be surprised by some of the unique things to do and places you can explore at this hidden destination.
Mahiyanganaya is a town located in the misty hills of the Badulla district. Whilst appearing to be a deceptively quiet little town, it boasts of a rich cultural and historical heritage, hailing back centuries into Sri Lanka's past. The area is perfect for a quick stop for some sightseeing, particularly if you're interested in indulging yourself in the religious allure of the country and region.
Most of the town's religious appeal comes from the alleged visit of Gautama Buddha to Mahiyanganaya, on the poya (full moon day) in January many centuries ago, to resolve a conflict between two ethnic tribes, the Yakkas and Nagas. This was believed to be the Buddha's first visit to Sri lanka, where he subsequently preached the Dhamma to a leader in the area, as well as donated a fistful of his hair for his followers to worship. A golden chethiya was built to host these strands of hair, and as such this area is very sacred to the Buddhist community residing in the country.
The High lite of the tour is to visit Rathna Ella waterfall, Rathna Ella is one the famous waterfall in the Sri Lankan waterfall directory. It is considered as a 9th highest waterfall on the island with 111m,
 The trek to the forest consists with clear footpath with some narrow areas. The surrounded village also called as 'Rathna Ella Village". Most of the people are doing paddy cultivation as their occupation. During the trek, you will see wild animals, small canals, paddy fields and narrow bridges. It is somewhat tired. Ideal for nature lovers. But you will forget all the difficulties after reach the destination.
You will be starting your tour shortly after dawn, at 6:00 am. You will go through the lush forests of Mahiyangana to reach the Rathna Ella waterfall. The route is about 3.5 kilometers long but the destination is well worth the journey.
Enjoy an authentic Sri Lankan lunch when at the Rathna Ella village. The meals in store for you have been created using recipes passed down from generation to generation and made by the locals with a lot of love – which is probably why it tastes so delightful!